Vegan Bulgogi Crumble
I accidentally set my fridge to ultra cold and this happened:
Sad tofu in need of a makeover!
My beautiful pillowy block of tofu became porous and rubbery. Although it was still good to eat, my plans to bite into delicately smooth square of tofu was no more. Then I had a bright idea and crumbled my tofu to make a mock bulgogi ground beef of sorts. Wavey loves a good challenge.
I thought it would go great topped on bibimbap or rolled up in a gimbap too. I actually made bibimbap with this shortly after making it. My kids devoured it! They seemed to prefer this over real meat, actually.
Plus, Wavey loves all types of eaters- yes vegan eaters too (RESPECT) and so here is my recipe for my friendly plant-based friends!
Ingredients:
1 block of extra firm tofu
1/8 cup + 1 tablespoon soy sauce
1/4 cup water
1 tablespoon sesame oil
3 garlic cloves minced
1 tsp minced ginger
3 tablespoons brown sugar
1 tablespoon light corn syrup
1 teaspoon ground black pepper
Neutral tasting vegetable oil, for sautéing tofu
Crumble tofu over a fine mesh colander. Prepare a large plate, lined with a few sheets of paper towels. Squeeze out excess water from tofu with hands before placing on plate. Let tofu sit on paper towels for a few minutes to draw out excess moisture.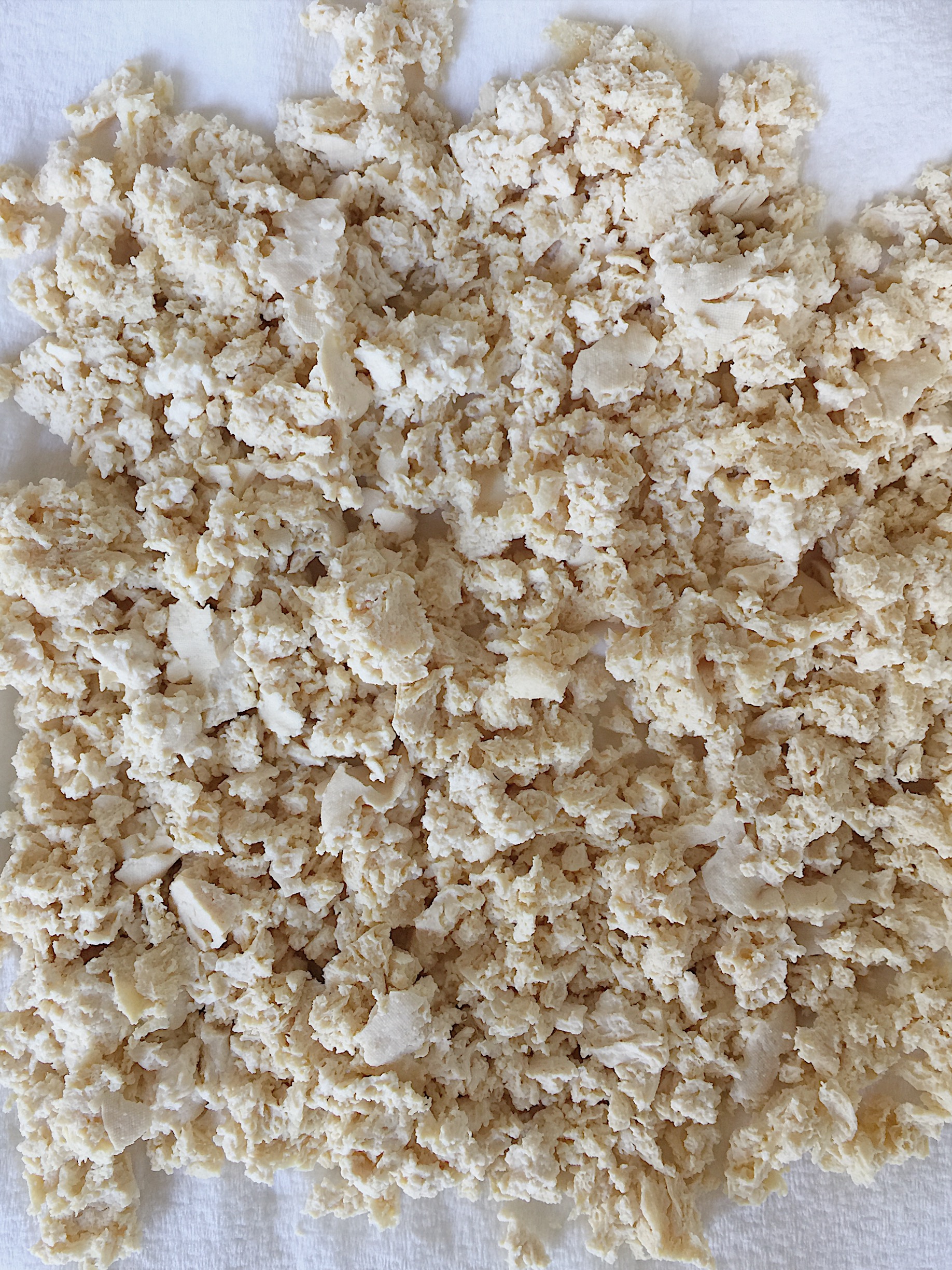 Time to get nice and dry!
In the meantime prepare the sauce: in a small bowl combine soy sauce, sesame oil, water, sugar, half of the garlic and ginger and pepper. Mix well.
Heat a medium non-stick pan over medium heat. Drizzle in a generous amount of neutral vegetable oil (about 3 tablespoons). Stir in remaining half of garlic and ginger for a few seconds then add in tofu crumbles. Turn up heat to medium hight heat and sauté tofu, stirring frequently for about 7 minutes or until tofu is golden and slightly crispy on the outside.
Pour sauce over tofu and let sauce reduce down, stirring frequently. About 5 minutes. At the end of cooking add corn syrup and an extra drizzle of sesame oil then remove from heat. Garnish with toasted sesame seeds.