Ooh-ung Jorim (Sweet Braised Burdock Root)
Ooh-ung is a popular root vegetable in Korean cuisine mainly consumed in teas or banchan. It is not hard to find them wrapped in bundles at the Asian market. They taste slightly nutty, earthy-minerally and subtly reminiscent of ginseng.
Ooh-ung roots are super long.
As long as your arm! Look for firm roots that don't flop around when you hold them.
This is a great side dish to add into bibimbap or rolled into kimbap or futomaki, This dish is salty, sweet and sticky- which is a great seasoning for a simple kimbap.
I once saw this video on youtube of a cute lady who sells her specialty street food of ooh-ung kimbap. You'll see she adds in pretty simple ingredients along with the ooh-ung.
My mouth is watering. Let's get to it and make this thing! :D
Ingredients
2 burdock roots
1/8 cup neutral tasting oil such as vegetable or grapeseed oil
3 tablespoons toasted sesame oil
1/8 cup soy sauce (medium-bodied, I used Kikkoman)
1 tablespoon dark soy sauce
2 tablepoons mirin
2.5 tablespoons sugar
2 tablespoons honey
2 tablespoons of brown rice syrup (you may sub with corn syrup)
1/4 cups water
Peel off the brown skin from your roots with the back end of your knife or vegetable peeler.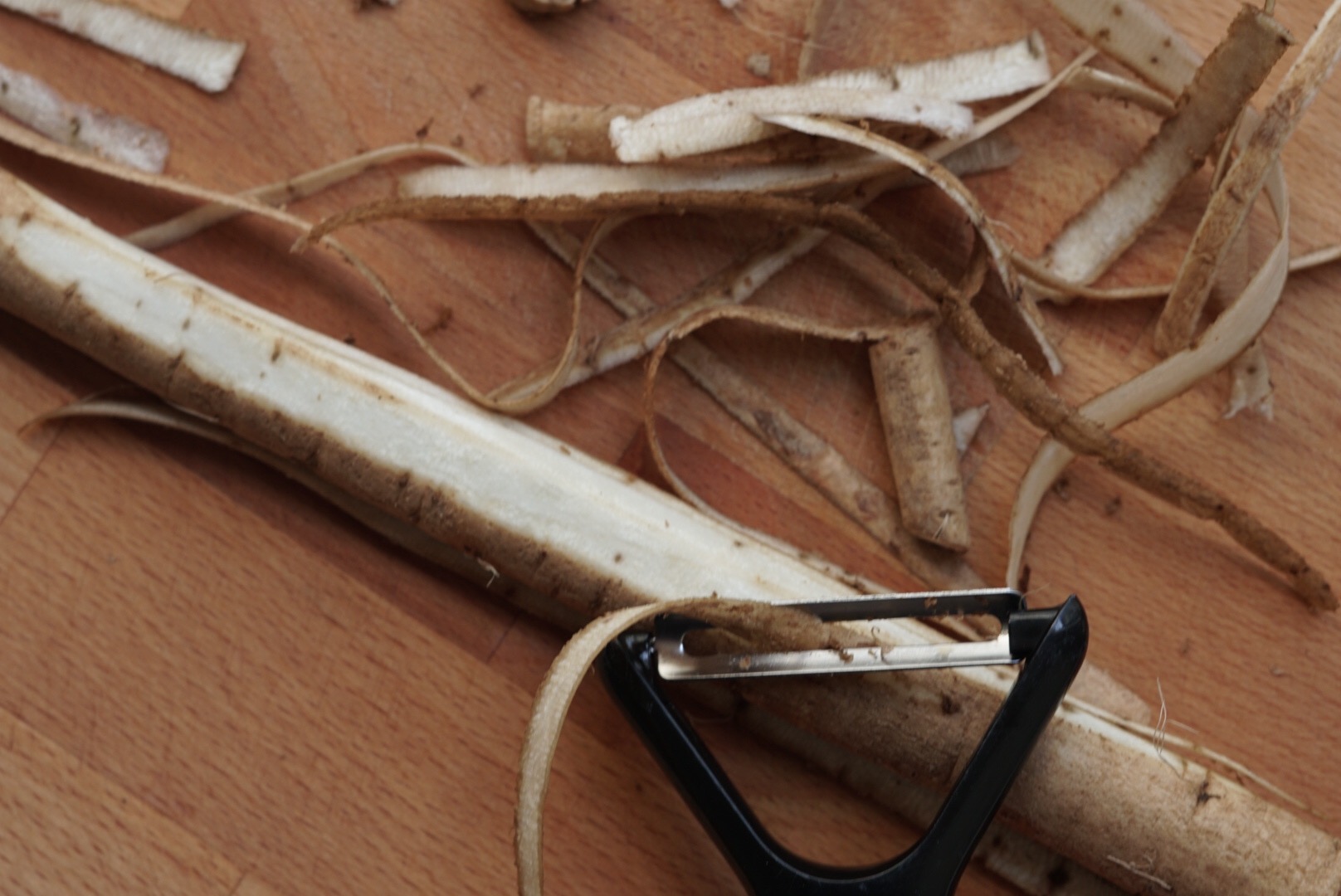 It's okay if you see small dark spots after peeling.
Cut off the ends of the root, about half an inch length. Then equally cut your root into 3 inch pieces then slice into thin matchsticks. To do this effectively and safely, begin by slicing off one side and then lay the piece on the flat side.
Laying the piece on a flat side will be easier and safer.
Slice the piece into thin sheets. Then pile a few sheets on top of one another and slice into thin matchsticks.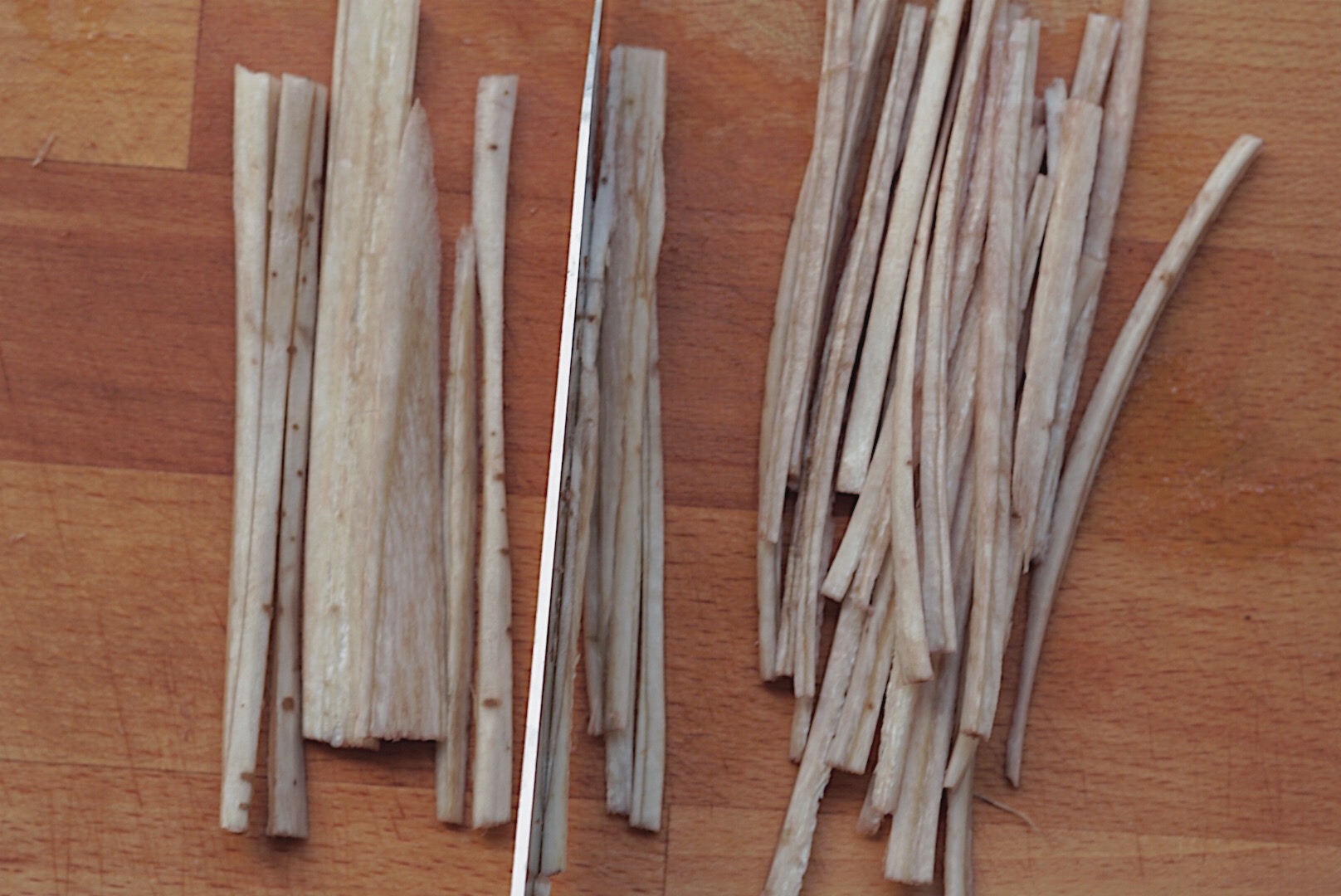 I cut mine long and straight.
Bc I want to put these in kimbap!
After both the roots have been prepped, immerse them in cool water in a large bowl. Let sit overnight or for at least 6 hours.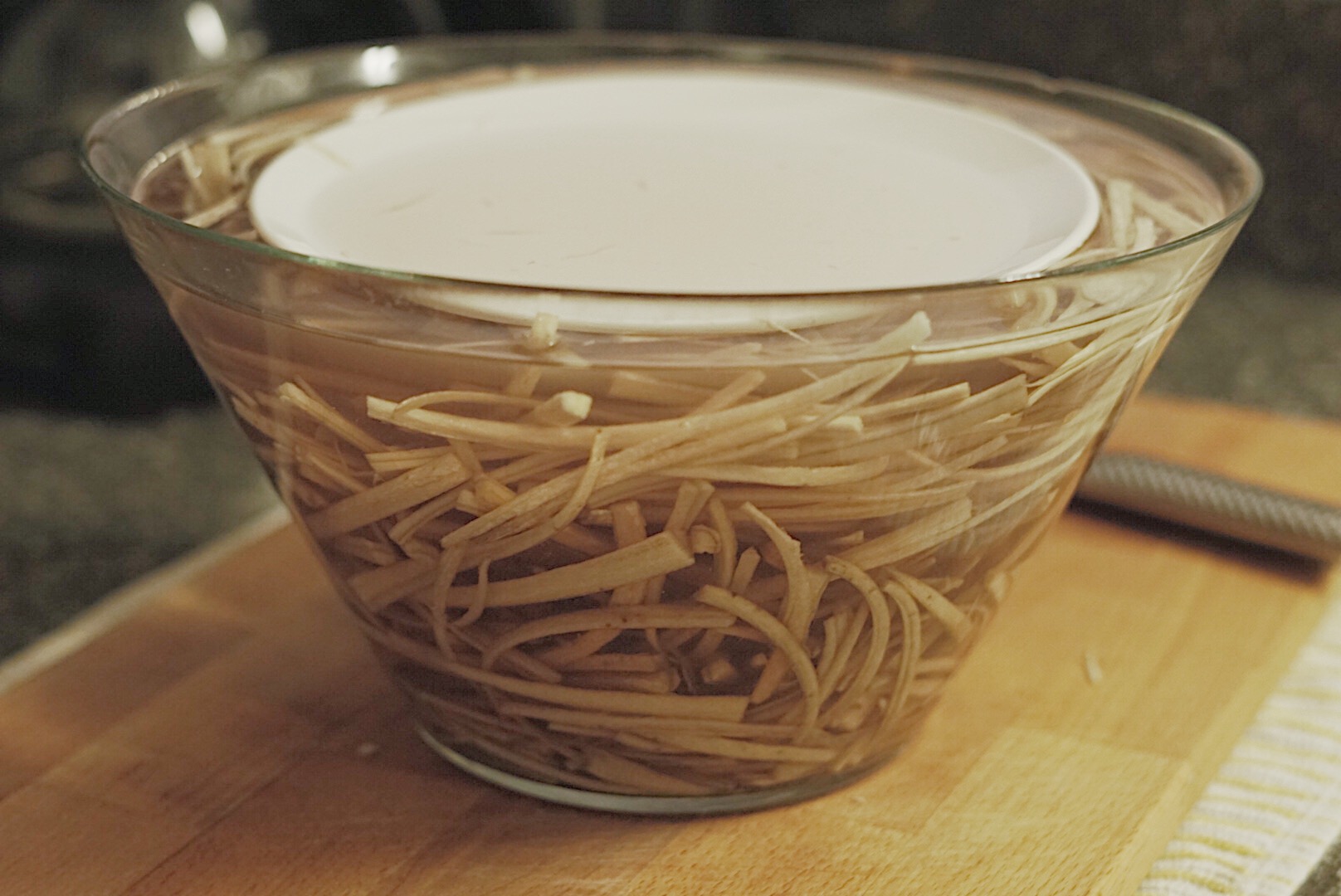 I placed a plate on top of the ooh-ung.
Bring water to a boil in a stock pot, enough to immerse the ooh-ung again.
In the meantime discard the dark-hued water from the soaked oo-ung then rinse them a couple of more times. Blanch the ooh-ung in the boiling water for five minutes then drain in a colander. There is no need to rinse them or cool them off.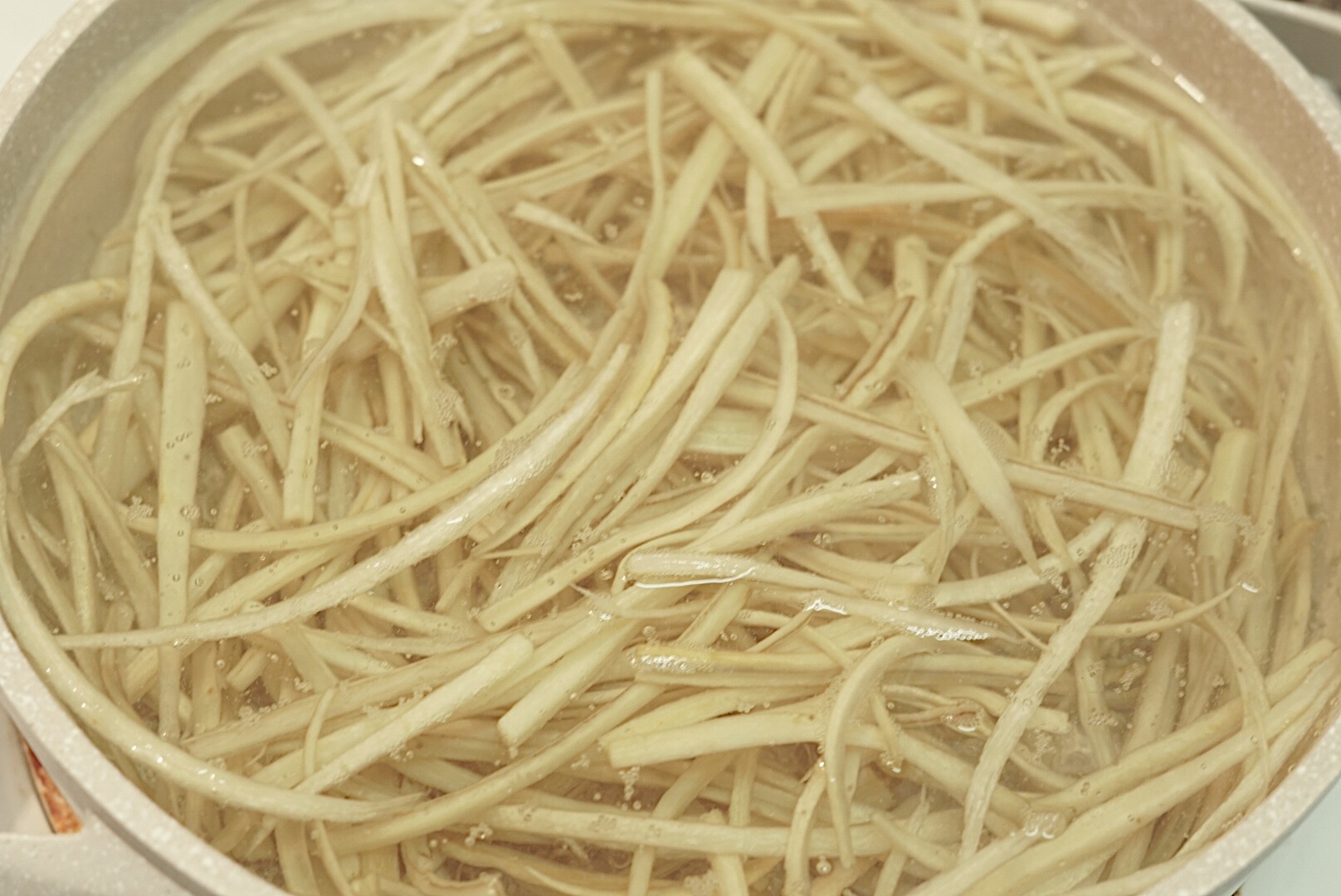 Blanching them will soften em up!
Prepare a wide shallow pan or large wok and heat the oils over medium heat before adding in ooh-ung. Stir fry the ooh-ung for a few minutes to get them coated in the oil. About 5 minutes.
Add in your remaining ingredients. Turn up the heat and stir frequently.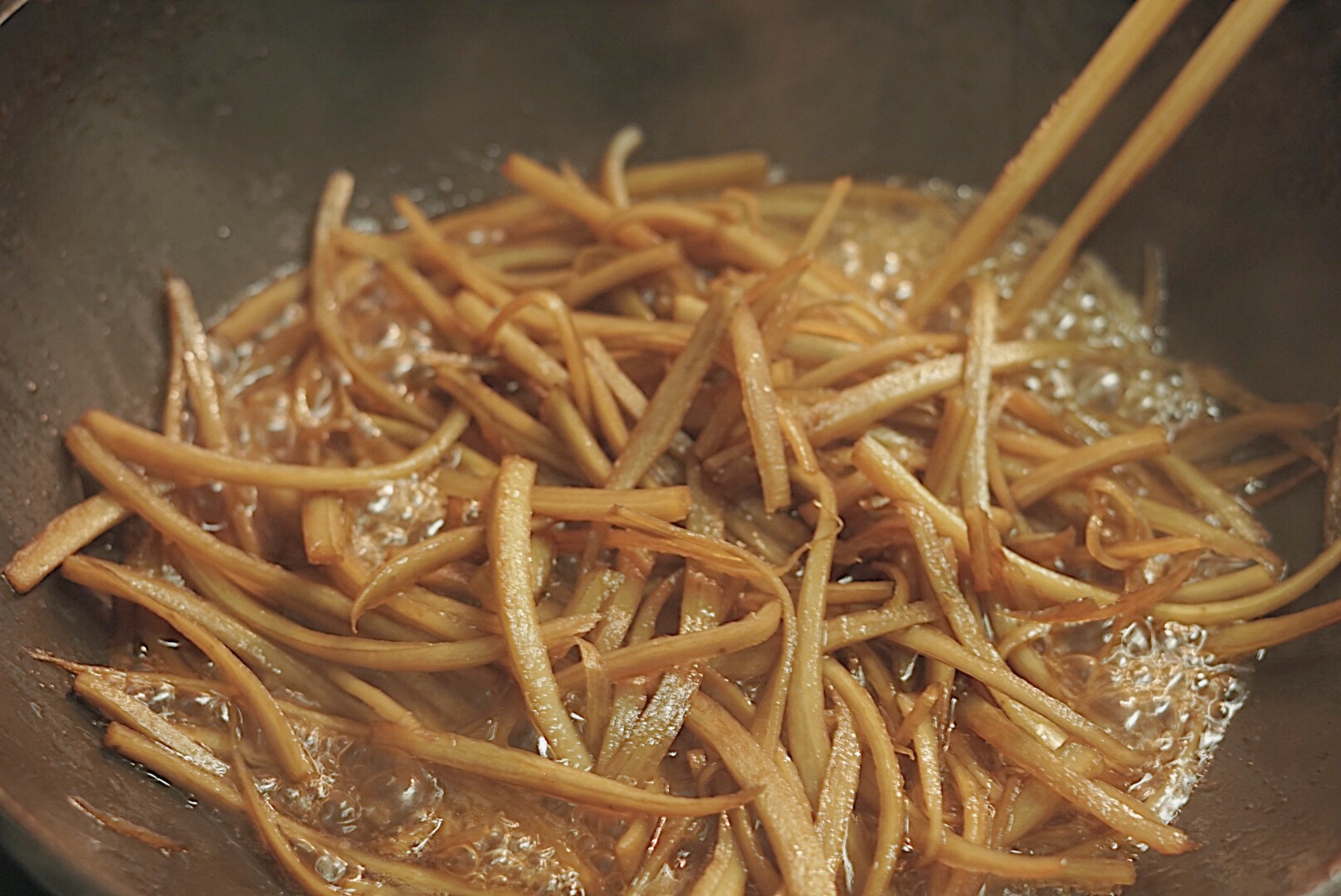 The key is to reduce down your sauce.
Stirring often is important.
Continue stirring until the sauce comes to a boil. Turn down heat again to medium to ensure the sugars don't burn.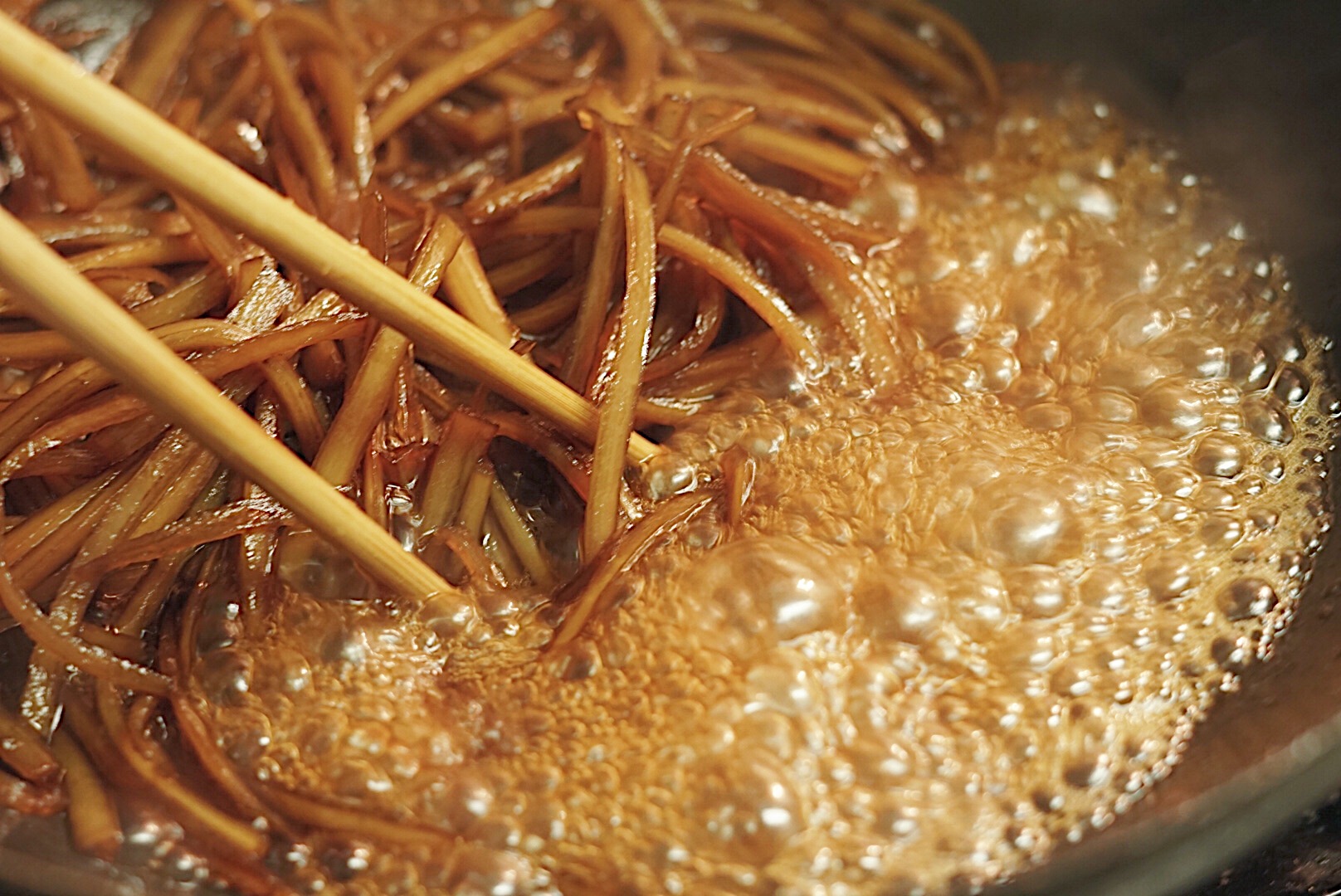 reduce heat again to medium.
Continue stirring your ooh-ung for another ~5 minutes or until the sauce has completely reduced down and your ooh-ung acheives a dark brown, glossy sheen.
Remove from heat and cover with a lid for ~5 minutes. Remove lid and cool for a few minutes before serving. Garnish with toasted sesame seeds. Enjoy!