IG Buddy Tres Leches Cake
One of my favorite people on IG is @anannadroid for her super swag outfits, her cute kitty and the delectable baked goodies she whips up in her kitchen. One day I saw that she made one of my all time favorite cakes- tres leches cake! She was very kind to share this recipe she found in the Joy of Cooking cookbook with me. :)
Anna suggests any basic whipped topping will work for this cake. I made a Swiss merengue topping that I piped on with my elementary piping skills (hey, not my forte okay). Then I added some fresh strawberries and chocolate chips. Why? Because they're just awesome and what I had around! Hehe.
I took this to a playdate and they were a hit! I especially felt validated because I got no side eye from my Mexican friends who told me it was tasty (wipes brow).
Thanks for the share Anna! xoxo.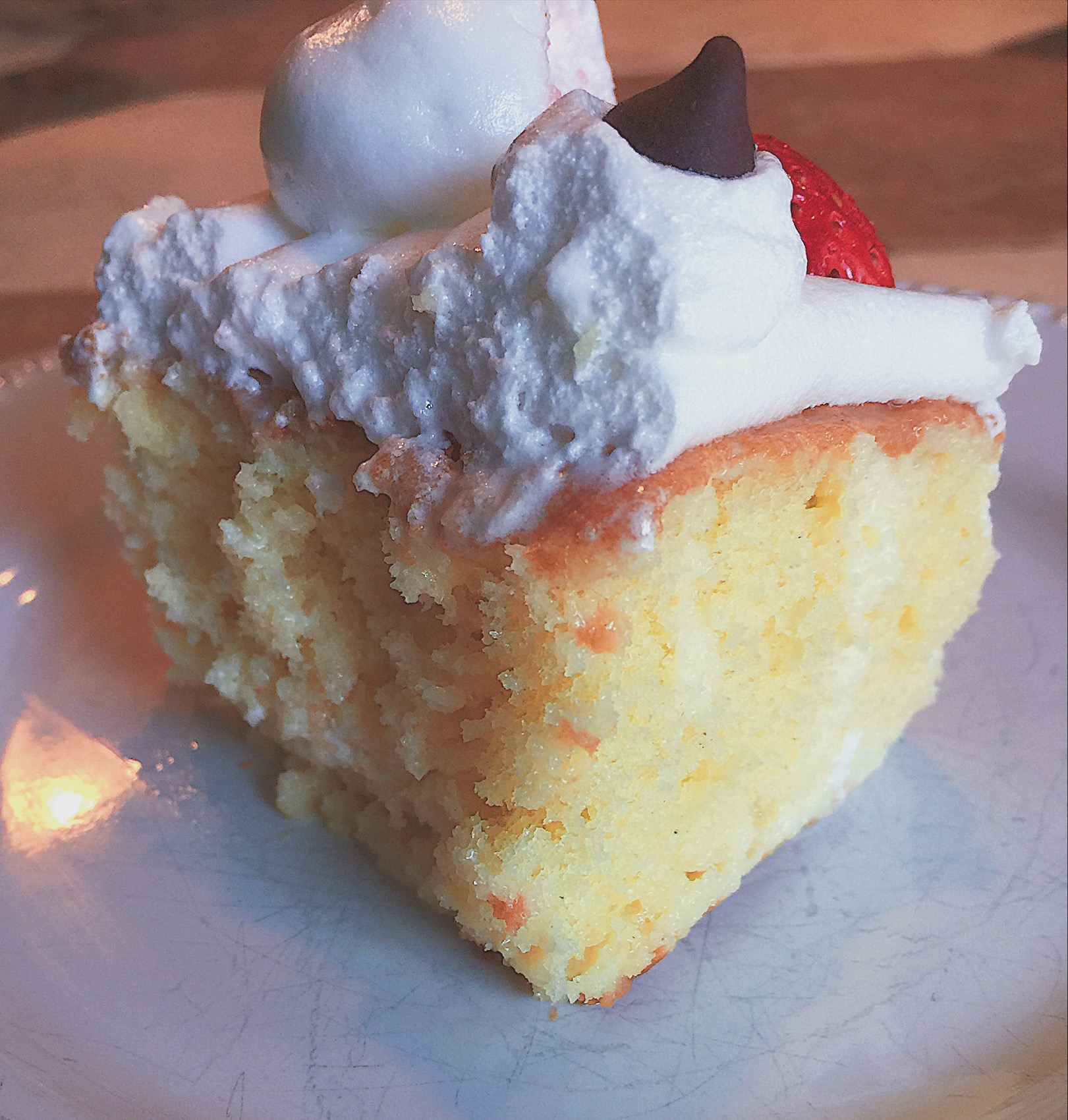 Ingredients
1 cup of all purpose flour
2 teaspoons baking powder
3 large eggs, whites and yolks separated
1/8 teaspoon cream of tartar
1 cup sugar
1/4 cup of milk
1/2 cup heavy cream
3/4 cup evaporated milk
3/4 cup + 2 tablespoons sweetened condensed milk
The instructions I received from Anna...
For Swiss Meringue Topping
3 large egg whites, at room temp
2/3 cup sugar
Pinch of cream of tartar
1/2 teaspoon vanilla extract (or any flavor of your choice)
If you don't already have a double boiler situation, bring water to a simmer in a medium sauce pan and then combine egg whites, sugar and cream of tartar in a heatproof bowl that you can place over the saucepan.
Once your bowl is placed over heated saucepan immediately whisk mixture constantly until all the sugar has dissolved and the mixture is warm to the touch (touch with finger check warmth). About 2 to 3 minutes. Make sure to whisk vigorously or use an electric hand mixer to ensure the eggs will not scramble.
Remove bowl from heat. Gradually increase your mixer speed as you whip mixture until stiff peaks form. This process should take about 10 minutes. The peaks should stand up on their own and the meringue should appear glossy.
Add in any flavoring in the last few minutes of whipping. Use immediately!